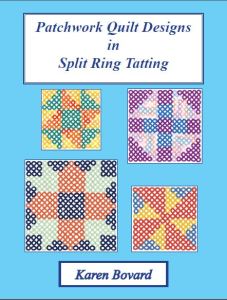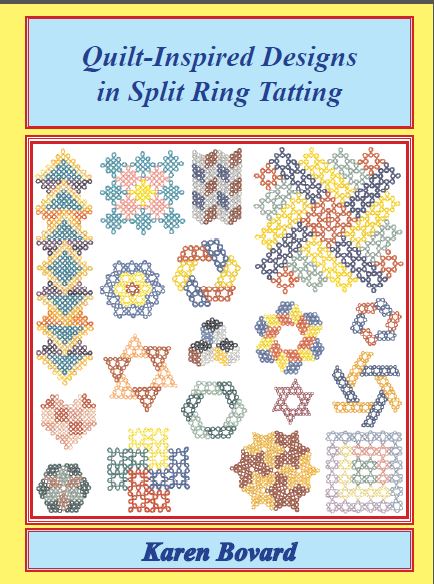 I have a new view of life lately!!!
I have been getting ready to go to the IOLI Convention in Iowa City, Iowa
(which was July 27-August 1)
for over a year now. It all started when I was proposing classes to the Convention coordinators over a year ago. They liked the idea of a quilt-themed tatting class based upon Split Ring Tatting Technique. I had been playing around with the quilt idea to create tatting patterns for a while, but had not really dived into the topic. When this class topic was chosen, I DID immerse myself into the world of historic quilt blocks–a world of color, repetition and symmetry, all concepts that I enjoy in my tatting.
So for over a year, I have been studying historic quilt blocks and converting the designs into tatting. Once again, Split Ring Tatting Technique gave me the base to create my tatted quilt-interpretations.
I created two different books based upon quilt designs:
Patchwork Quilt Blocks in Split Ring Tatting
&
Quilt-Inspired Designs in Split Ring Tatting.
They are quite different from one another.
For the last year, I have spent every spare free minute I had working on some aspect of these two books….getting all the details done. I knew I was going to be 'down-to- the wire' with getting them printed that I decided to test my publishing skills by getting a third book done:
Block Alphabets in Split Ring Tatting
. This book of 2 different block alphabets (and frames to use the letters/number) had been about 90% done for several years. This book had lost my interest to finish due to the fun I was having with the Quilt-Inspired books. But I 'buckled-down' and poured my time into finishing it.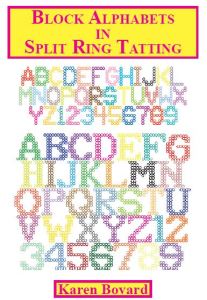 All three of these books were published and printed in the time span of end of June to the beginning of July. I had possession of 3 boxes of my 5 books all in time to go to IOLI Convention where I debutted them.
Now they are available for purchase on my website: www.TheShuttleSmith.com
Click on the "Tatting Books" tab.
Payment is via PayPal
As both the author & publisher, your direct purchase from me is sincerely appreciated!