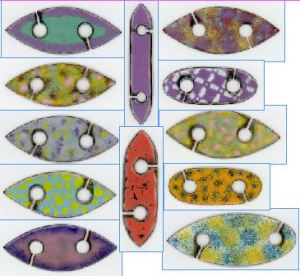 I have just added 12 new glass-enameled/copper tatting shuttles to my website specially chosen for their SPRING-LIKE color combinations.
They are available for adoption from my home page
www.TheShuttleSmith.com
: Click on 'Tatting Shuttles', then 'Copper/Enameled Glass Tatting Shuttles'.
Check out the color descriptions and close-up views of the shuttles (front and back).
Payment is via PayPal.
Free shipping to USA addresses.
Prices: $20 to $25