Last weekend I had a bit of an adventure
('adventure' defined as something other than being home, doing what I typically do at home).
I helped my 24 y/o daughter drive her car and move from Omaha, NE
(where we live)
to Denver, CO
(where she will be starting grad school in counseling at No. CO Univ.)
We drove out on Saturday and had her new apartment waiting for our arrival that evening. It was an uneventful trip with the minor exception of a fairly crazy head/side wind on I-80 across the plains of Nebraska. I took Monday and Tuesday off of work to have a mini vacation in Denver. Most of the time was spent shopping for things she needed for her new apartment, including a bed, as well as moving in her possessions
(all moved in the back of her car--so not too much stuff)
& setting stuff up.
I wasn't planning on having any tatting-related sightings. But while shopping for a bed, I was pleasantly surprised to see this backpack at a restaurant that had lace on it. Upon further observation, it had tatted designs on it. And when I really started looking, the tatted designs were high-level SPLIT RING TATTING motifs!!!!!
The girl who was wearing the backpack thought I was a crazy woman to be so interested in her backpack. I told her I was a 'lacemaker' and that was why I was so interested....but I don't think that she had a clue as to what that meant. She did
(somewhat grudgingly)
allow me to photograph it
(though she mentioned that I was to purchase her lunch for her--which I ignored.)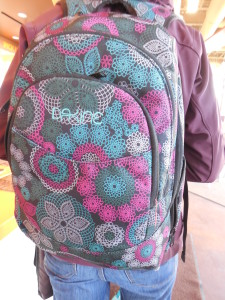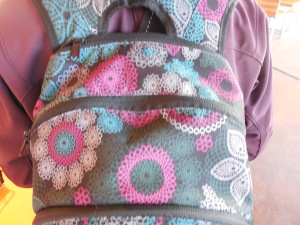 This is a very interesting backpack!!!! When I got home, I did a little bit of research on it. The company is Dakine and is made/sold from Oregon. This particular model is from 2013 but is no longer available/for sale.
I WANT ONE!!!
I think that the model is called Prom Crochet. If you click on the photos (especially the top one) you should get a enlarged, fairly crisp view of the intricasies of the design. The tatting is crazy cool! A lacemaker, especially a tatter had to have been the one to design the pattern. I have no idea how to research this any further.
I will be posting OTHER Lace, Tatting, & Fiber Art related sighting from this same trip in further posts---coming soon.