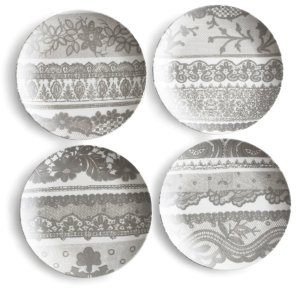 Rosanna (TM) Venetian Lace Plates

While in a Denver thrift store
(looking for items for my daughter's new apartment)
I found 4 of these ceramic plates. The photo above is from the internet and shows all 4 designs. I have only 3 different designs–
I have 2 copies of one design
.
From what I can tell, they are still available for purchase. However, the price I paid of $2.50 each makes my thrift store purchase a bargain.
In my research I found the following items in the same design series.
Darn it! that Christmas is over—I could have put these on my 'Want List'.