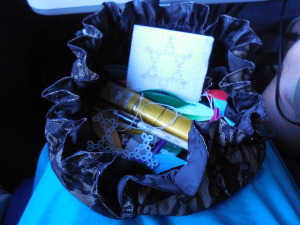 I was on the Amtrak train 2 weeks ago heading from Omaha to Grand Junction for a long-weekend vacation when I decided to take inventory of what I had in my tatting bag. I love those little round, 'jewelry-travel' bags. My personal favorites are the ones without a rigid base—they squish-down better to stuff into my purse. I have this tatting bag in my purse and with me ALL THE TIME! In fact, if it accidentally gets left at home, I sort of freak out. It feels like a major part of my life is missing.
In regards to my shuttles
: I use the Boye plastic fixed-center post shuttles. These are the shuttles I could find growing up in the 70's
(yikes I'm giving away my age!!)
in rural NE Nebraska. Thus I got use to them: their feel in my hand, the
(larger)
amount of thread they hold, the usefulness of the point, etc. If you look close you can see my tatting-in-progress, a SRT snowflake of my own design. The 'aero-type' shuttles
(the 2 colorful ones are HH Aerlits)
are only in my tatting bag to be used as crochet hooks. I recently purchased the 3 HH Moonlit shuttles on the lower right. They seem to have everything I like in a shuttle: larger size (I have larger hands), same size as the Boyes; holds a decent amount of thread–probably more than my beloved Boyes; & a built-in hook—something I've never had before in a center-post shuttle. Pictured is also a Clover shuttle (my secondary-favorite shuttle) and a NAG (Needle Arts Goddess) handmade wood shuttle.
In regards to my Ancillary Tools (top to bottom):
A paper copy of my current pattern; my reading glasses in a hard case
(I'm old!);
pen & mechanical pencil
(to jot-down new pattern ideas & correct current patterns)
; Uncle Bill's Tweezers
(for the occasional opening-a-closed-ring problem);
safety pins (for pinning my work in progress out of the way); scissor-snip in an enclosed case
(God's gift to my tatting!);
an old perfume-sample glass vial, probably from the 60's to house my size 24 tapestry needles that I use to sew-in ends; metal tooth-pick & sheath
(my irreplaceable Split Ring Tatting tool to encourage tiny 'joining-picots' to be big enough to get a crochet hook into to create a join)
; 2 pieces of plastic
(used to unwind/wind thread to create 'continuous thread method' between two shuttles
–See previous post
http://survivalarchitecture.com/shuttlesmithblog/continuous-thread-method-my-tip/
for my 'how-to' use it.